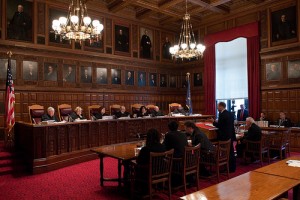 A nonparty may be vitally interested in the outcome of pending litigation or a pending appeal.  The interest may be so great and so direct as to require that the nonparty be made a party.  Such a nonparty is frequently but unfortunately spoken of as indispensable.[1]  When the interest is somewhat less, however, the nonparty may seek leave to intervene or to appear as an amicus or, alternatively, watch the litigation from the sidelines.[2]  What considerations bear on the choice of intervention and appearance as an amicus?
Most significantly, an intervenor is bound as a party, whereas an amicus curiae is not a party and is not bound by the judgment.[3]  That distinction is a strong encouragement for a nonparty to proceed as an amicus curiae and retain the ability to fight again in the future, especially if the nonparty's ability to participate in and influence the trial, appeal, and outcome as an intervenor are not entirely clear. As a party, an intervenor will have the right to appeal, denied to an amicus, but may be held liable for attorney fees and costs.[4]  An intervenor will be bound by the judgment for purposes of res judicata and collateral estoppel, while an amicus will not.
There are practical considerations as well.  An intervenor will normally have to litigate in the court and before the judge already assigned, while an amicus will retain the ability to file suit in another jurisdiction or hope for assignment of a different judge.  An amicus will be affected by the decision but not legally bound; an amicus is not master of the case and cannot control the evidence or arguments.  An amicus often is not permitted to argue at oral arguments or is dependent on a grant of time by the party on whose side the amicus appears.
Credit: Image courtesy of Flickr by Tracy Collins
---