That is the question presented in SCOTUSblog's Petition of the Day.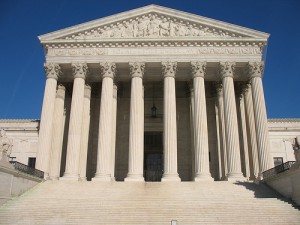 The Fourth Circuit ruled in Santos v. Frederick County Bd. of Comm'rs, 725 F.3d 451 (4th Cir. 2013), that
absent express direction or authorization by federal statute or federal officials, state and local law enforcement officers may not detain or arrest an individual solely based on known or suspected civil violations of federal immigration law.
Frederick County's cert petition argues that this creates a circuit split that the Court should resolve:
As it currently stands, state and local police in three circuits are preempted from rendering assistance to ICE unless they have clear evidence that an alien's underlying immigration violation is a criminal, rather than civil, infraction. In stark contrast, state and local police in three other circuits have broader, unpreempted, immigration arrest authority. In the rest of the country uncertainty governs. This gross uncertainty and disparate treatment is unfair to state and local law enforcement, unfair to aliens, and unfair to lower courts. Without guidance from this Court, this divisive multi-circuit split will persist, and the ability of local police to assist ICE by making immigration arrests will vary widely from state to state and be fraught with doubt
The briefs are available here. The Court will consider the case in its March 21, 2014, conference.
Image courtesy of Flickr from Kjetil Ree (creative-commons license, no changes made).