The Ninth Circuit has denied the sua sponte call for en banc review in Pacific Shore Properties, LLC v. City of Newport Beach, No. 11-55460, a case that we have written about previously here.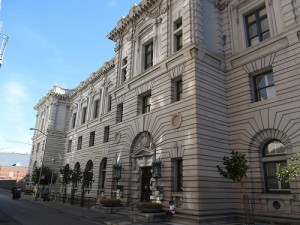 Judge O'Scannlain, joined by Judges Tallman, Callahan, Bea, and Ikuta, filed a dissental, that is, a dissent from the denial of en banc review. It appears to be telegraphing that the Supreme Court should consider the case:
The panel's opinion in these consolidated cases invents an entirely unprecedented theory of actionable government discrimination: sinister intent in the enactment of facially neutral legislation can generate civil liability without evidence of discriminatory effect. Such unwarranted expansion of "disparate treatment" doctrine, moreover, recognizes no principled limit. A single member of any protected class will now be able to challenge a facially neutral—and evenly applied—municipal ordinance without having suffered any actual discrimination. Our Court, alone among the nation's appellate tribunals, has embarked on an uncharted and highly dubious course.
[Disclosure: Kira Klatchko authored an amicus brief on behalf of the League of California Cities supporting Newport Beach in this case.]
[Image courtesy of Flickr by Ken Lund (creative-commons license, no changes made).]