In addition to addressing local-government prayer this morning,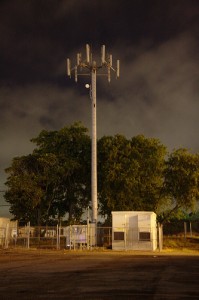 the Supreme Court also decided to hear and answer another question impacting local governments: when a city denies a request to place a cell tower, how formally must it act?
The Court granted cert in T-Mobile South, LLC v. City of Roswell, No. 13-975, which specifically asks what a local government must do to satisfy the Communications Act's "in writing" requirement at 47 U.S.C. 332(c)(7)(B)(iii):
Any decision by a State or local government or instrumentality thereof to deny a request to place, construct, or modify personal wireless service facilities shall be in writing and supported by substantial evidence contained in a written record
As the Eleventh Circuit explained in its decision, some circuit courts have ruled that a written denial must be "separate from the written record" and "must contain a sufficient explanation of the reasons for the permit denial to allow a reviewing court to evaluate the evidence in the record supporting those reasons." Sw. Bell Mobile Sys., Inc. v. Todd, 244 F.3d 51, 60 (1st Cir.2001).
The Eleventh Circuit ruled that the Communications Act does not require all this. Because the City here provided:
a letter explicitly denying T-Mobile's request;
minutes summarizing the hearing and recounting the reasons for the denial; and
a verbatim transcript of the hearing,
the court ruled that the City had satisfied the "in writing" requirement. It cited its earlier Milton decision, which emphasized the limits of a judge's role:
In interpreting what the words "in writing" mean in § 332(c)(7)(B)(iii), we are reluctant to import into those words, as some of our sister circuits have, "more pragmatic policy values," MetroPCS, 400 F.3d at 722, than the words themselves bring along, or to take a more "pragmatic, policy-based approach," Helcher, 595 F.3d at 718, than the plain meaning of those words take. We are interpreting a statute, not designing one. Although we, like most judges, have enough ego to believe that we could improve a good many statutes if given the chance, statutory construction does not give us that chance if we are true to the judicial function. Our duty is to say what statutory language means, not what it should mean, and not what it would mean if we had drafted it
Just last term, the Supreme Court decided Arlington v. FCC, which also involved Section 332(c)(7) of the Communications Act.
[Disclosure: I worked with a team of BBK attorneys on the Arlington case.]
Image courtesy of Flickr by Steve Rainwater (creative commons license, no changes made).