Judges are substantially governed by rules—local rules, rules of evidence, state or federal rules for trial courts or appellate courts.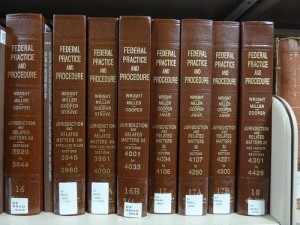 Rules do not normally determine the merits, although rules provide the structure or framework within which the merits can be considered fairly to both sides.  Not surprisingly, judges typically know the applicable rules quite well.  The judge may have drafted the local rule specifically to address an issue arising with some frequency in that judge's courtroom.  Or the judge may have been reversed for failure to enforce the rule.
Judges expect attorneys to know the rules.  Attorneys who practice in multiple courts may need to learn and use many sets of rules.  Just do it.  The alternative is to be sorry.  Courts are not gentle with attorneys who fail to read and follow the rules, as reflected in the following, drawn from a wide variety of available examples.  In some instances, the court decision effectively sets up a malpractice action against the careless attorney.
Campbell v. Bowlin, 724 F.2d 484, 488 (5th Cir. 1984), quoting Wansor v. George Hantscho Co., 570 F.2d 1202, 1207  (5th Cir.), cert. denied, 439 U.S. 953 (1978): "the rules of civil and appellate procedure clearly provide that Campbell was required to file a notice of appeal within thirty days. We are disinclined to hold that a failure to read the rules of civil and appellate procedure can constitute excusable neglect. '[S]uch a proposition would make the requirement of timely filing almost undeterminable.' Therefore, we find that Campbell's failure to timely file was not excusable neglect."
Meade v. Levett, 671 N.E.2d 1172, 1175 (Ind. Ct. App. 1996):  "We note initially that Meade failed to include a verbatim copy of the judgment in her statement of the case as required by Ind. Appellate Rule 8.3(A)(4). Counsel is admonished to carefully read the Rules  of Appellate Procedure prior to commencing any further appeals before this court and to submit briefs which conform to the requirements of those rules."  Accord, Parker v. State, 567 N.E.2d 105, 109 n.7 (Ind. Ct. App. 1991)  ("Counsel would be well advised to re-read the rules of appellate procedure and purchase a working stapler before filing further appeals."
Sartain v. Blunck, 453 N.E.2d 324, 325 (Ind. Ct. App. 1983):   "While we often are tolerant of minor infractions of the appellate rules so that we may decide appeals on their merits, those rules are nonetheless binding on all persons bringing appeals to this court. Here, Beverly has reached the point where the total accumulation of individually insignificant errors requires us to dismiss this appeal. As in the past, we again strongly suggest appellate counsel read the rules of appellate procedure, and our decision in Moore v. State, (1981) Ind. App., 426 N.E.2d 86, before filing their appeals. Failure to follow these rules puts an appeal in jeopardy from the beginning."
PW Eagle, Inc. v. Schnase, 376 F. Supp. 2d 945, 947 (D. Neb. 2005):  "I caution the lawyers. Read the rules. Read the procedures. Follow the rules. Follow the procedures. Particularly when it comes to motions requiring evidentiary submissions, if you fail to comply with the rules and procedures, you can hurt your client. At the very least, you will seriously annoy me."
In re Menges, 337 B.R. 191, 194 (Bankr. Court, N.D. Ill. 2006), quoting Tuke v. United States, 76 F.3d 155, 156, 157 (7th Cir. 1996):  "The cause for the delay in service here, though, is unfortunately all too apparent: the failure of Christine's counsel to consult the Bankruptcy Rules in the first place. That sort of cause is obviously not 'good.' 'Failure to read a rule is the antithesis of good cause. Ignorance may be an explanation but is not an excuse.'  '[A] lawyer who does not read the rules lacks good cause.'"
Parmelee Transportation Co. v. Keeshin, 294 F.2d 310, 313 (7th Cir. 1961):
Fundamentally there is no adequate substitute in the heat of a contested trial for prior trial experience. Of course in these days, when more money can be made by lawyers outside of courtrooms, the number of experienced trial lawyers is rapidly decreasing. So, to supply a synthetic experience in capsule form to take the place of trial experience, we have rules of court … just as we have vitamin pills as a substitute for meals which always have taken considerable time in preparation as well as in eating. So, now, without trial experience, or the expenditure of time to learn why it is so, the modern lawyer may simply read the rules of civil procedure and practice according to the rule book. If there is any area of trial court practice which is not now covered by the rules, it is probable that a new rule will be promulgated in due time.
Image courtesy of Flickr by Janet Lindenmuth (creative-commons license, no changes made)