Here are last week's published decisions involving local governments: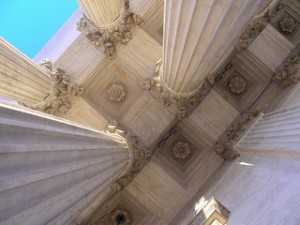 Sixth Circuit
Cass v. City of Dayton, No. 13-4409 (Oct. 16, 2014): In 1983 action alleging that officer used excessive force in violation of the Fourth Amendment, the court affirmed summary judgment for defendants because officer's conduct was objectively reasonable and did not violate Fourth Amendment.
Seventh Circuit
Swisher v. Porter County Sheriff's Dept., No. 13-3602 (Oct. 15, 2014): The court reversed the judgment for defendants because Plaintiff, who brought 1983 action alleging he was denied proper medical care while he was a pretrial detainee, had no duty to exhaust administrative remedies at the jail because jail's grievance procedure was not clear.
Ninth Circuit
C.B. v. City of Sonora, No. 11-17454 (Oct. 15, 2014) (en banc): In case where C.B., an 11-year-old child with attention-deficit and hyperactivity disorder, brought Fourth-Amendment claim after officers handcuffed and removed him from school grounds when he refused to leave the playground, the court ruled that: (i) trial court's jury instructions did not constitute plain error; (ii) the trial court did not abuse its discretion when ruling on evidentiary matters; (iii) officers' decision to seize C.B., viewed most favorably to C.B., was not clearly established as unconstitutional;and (iv) officers were not entitled to qualified immunity on C.B.'s excessive-force claim.
Lopez-Valenzuela v. Arpaio, No. 11-16487 (Oct. 15, 2014) (en banc): The en banc court ruled that Proposition 100, an Arizona ballot measure that forbids granting undocumented immigrants arrested for felony offenses any form of bail or pretrial release, violates substantive due process.
(Oct. 13, 2014-Oct. 17, 2014)
Image courtesy of Flickr from Ken Lund (creative-commons license, no changes made).