In a unanimous decision released Tuesday, the U.S. Supreme Court held that federal abstention under Younger v. Harris, 401 U.S. 37 (1971) applies in only three "exceptional circumstances."  The Court previously identified those exceptional circumstances in New Orleans Public Service, Inc. v. Council of City of New Orleans, 491 U.S. 350 (NOPSI) (1989). This week, it confirmed, in Sprint Communications, Inc. v. Jacobs et al., that Younger abstention extends no further.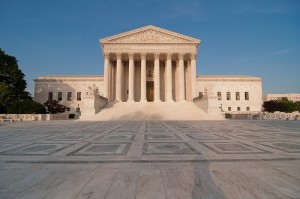 The Court reaffirmed that Younger abstention is appropriate, and federal courts should defer to state courts, only when faced with:
 "state criminal prosecutions,"
"civil enforcement proceedings," or
"civil proceedings involving certain orders that are uniquely in furtherance of the state courts' ability to perform their judicial functions."
If none of those exceptional circumstances is present, the federal courts may not invoke Younger abstention.
As we discussed previously, Sprint involved two separate actions that Sprint Communications, Inc. initiated against members of the Iowa Utilities Board (IUB), one pending in Iowa state court and the other in the U.S. District Court for the Southern District of Iowa.  In both actions, Sprint sought a declaration that the Telecommunications Act of 1996 preempted the IUB's decision that Sprint was subject to intrastate intercarrier access fees for Voice over Internet Protocol (VoIP) calls imposed upon it by a local telecommunications carrier, Windstream Iowa Communications, Inc.  The federal district court abstained from deciding Sprint's case due to the pending state court proceeding.  The Court of Appeals for the Eighth Circuit affirmed the district court's decision to abstain.  The Supreme Court reversed, concluding that "[a]bstention is not in order simply because a pending state-court proceeding involves the same subject matter."
The Court assumed that the IUB proceeding, along with the state court review that followed, was a "unitary process" for Younger purposes, and concluded that the IUB proceeding did not fall within any of the three exceptional categories that warrant federal court abstention under Younger.  The Court concluded by stating that: "In short, to guide other federal courts, we today clarify and affirm that Younger extends to the three 'exceptional circumstances' identified in NOPSI, but no further."
Image courtesy of Flickr by Mark Fischer.
[Disclosure: Best Best & Krieger attorneys Kira Klatchko and Irene Zurko authored a brief in this case for IMLA, NCSL, and the Council of State Governments.]