If preemption is your passion, this Supreme Court term has been a disappointment.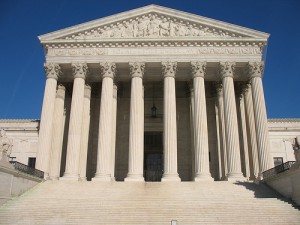 CTS Corp. v. Waldburger is one of just two preemption cases this term. To the extent local governments benefit from decisions finding no preemption, this case is a victory. But practically speaking, it is probably a Pyrrhic one.
In CTS Corp. v. Waldburger, the Supreme Court held 7-2 that the federal Superfund statute, the Comprehensive Environmental Response, Compensation, and Liability Act (CERCLA), does not preempt state statutes of repose. So homeowners' state law claims for water contamination against an electronics manufacturer will be dismissed.  Five states have repose periods (Alabama, Connecticut, Kansas, Oregon, and North Carolina).
The Environmental Protection Agency told North Carolina homeowners in 2009 that their well water was contaminated, allegedly by CTS Corporation, which had sold its electronics plant that had been on or near their property, in 1987. The homeowners brought a state-law nuisance claim.  North Carolina's statute of repose prevents a defendant from being sued for a tort more than 10 years after the defendant's last culpable act, here 1987.  CERCLA was enacted to promote "the timely cleanup of hazardous waste sites."  Section 9658 explicitly preempts statutes of limitations applicable to certain state-law tort claims and begins the statute of limitations when the plaintiff discovers that a harm was caused by contamination.
The Court held Section 9658 does not preempt statutes of repose.  The Court began its analysis by explaining the difference between statutes of limitations and statutes of repose.  Statutes of limitations create "a time limit for suing in a civil case, based on the date when the claim accrued."  Statutes of repose bar claims based on the date of the defendant's last culpable act or omission.  Statues of limitations encourage plaintiffs to diligently prosecute known claims.  Statues of repose effectuate a legislative judgment that a defendant should be free from liability after a specific period of time.
The Court noted that while Section 9658 uses the term "statutes of limitations" four times, it never uses the term "statutes of repose." While the Court concluded this isn't dispositive, "other features of the statutory text further support the exclusion of statutes of repose."  These include that Section 9658 describes the covered period in the singular, assumes a claim exists (statues of repose can prohibit a cause of action from coming into existence), and allows for equitable tolling (only available under statutes of limitations).
Some state legislatures may now want to adopt statutes of repose.  But doing so could cut both ways for local governments involved in environmental cleanup litigation.  In some instances local governments may be accused of being the contaminator.  In other instances local governments may be trying to recover from a non-government contaminator.
Image courtesy of Flickr from Kjetil Ree (creative-commons license, no changes made).