In T-Mobile South v. City of Roswell, the Supreme Court will decide whether a letter denying a cell tower construction application that doesn't explain the reasons for the denial meets the Telecommunications Act of 1996 (TCA) "in writing" requirement.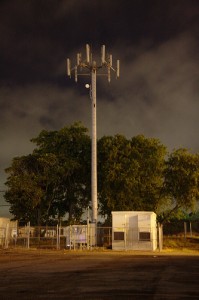 The State and Local Legal Center's (SLLC) amicus brief, which IMLA joined, argues it does.
T-Mobile applied to construct a 108-foot cell tower in an area zoned single-family residential.  The City of Roswell's ordinance only allowed "alternative tower structures" in such a zone that were compatible with "the natural setting and surrounding structures."  T-Mobile proposed an "alternative tower structure" in the shape of a man-made tree that would be about 25-feet taller than the pine trees surrounding it.
After a hearing, where city councilmembers stated various reasons for why they were going to vote against the application, Roswell sent T-Mobile a brief letter saying the application was denied and that T-Mobile could obtain hearing minutes from the city clerk.
The TCA requires that a state or local government's decision denying a cell tower construction permit be "in writing."  The district court and other circuit courts have held that the TCA requires a written decision and a written record that explain why the city council's majority rejected the application.  The district court granted T-Mobile's application.
The Eleventh Circuit disagreed relying on a plain reading of the statute.  The TCA doesn't say that "the decision [must] be 'in a separate writing' or in a 'writing separate from the transcript of the hearing and the minutes of the meeting in which the hearing was held' or 'in a single writing that itself contains all of the grounds and explanations for the decision.'"
The SLLC's amicus brief takes the position that the "in writing" requirement is met when a local government issues a written denial letter and the reasons for its decision can be gleaned from written minutes or a transcript.  The brief argues that T-Mobile's interpretation of "in writing" to mean local governments must issue a separate written decision with formal findings and conclusions "is not supported by the plain text of the statute, by its legislative history, by the weight of precedent, or by considerations of public policy."  The brief also points out the practical effect of T-Mobile's position would be to impose "substantial new costs and burdens on local governments, without providing any benefit in terms of facilitating the granting of meritorious wireless siting applications."
Tim Lay, Jessica Bell, and Katharine Mapes of Spiegel & McDiarmid in Washington, D.C., wrote the SLLC's brief which was joined by the National League of Cities, the United States Conference of Mayors,  the National Association of Counties, the International City/County Management Association, the International Municipal Lawyers Association, and the American Planning Association.
Image courtesy of Flickr by Steve Rainwater (creative commons license, no changes made).