Even though the Supreme Court's next term won't officially begin until October 6, the Court has already accepted about 40 of the 70 or so cases it will decide in the upcoming months.
For a more detailed summary of all the cases the Court has accepted so far affecting local government, read the State and Local Legal Center's Supreme Court Preview for Local Governments.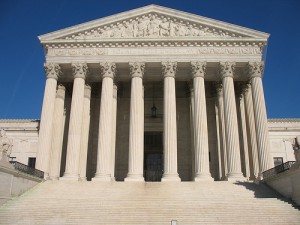 Here is a quick highlight of what is on the Court's docket right now that will affect local government:
Reed v. Town of Gilbert, Arizona and T-Mobile South v. City of Roswell will likely have the most impact on the day-to-day operations of local government.  Reed deals with the constitutionality of the Town of Gilbert's sign code while the Court in T-Mobile will determine what is required under the Telecommunications Act to deny a cell phone tower siting permit "in writing."
To date the Court has  agreed to hear only one Fourth Amendment case.  Heien v. North Carolina involves whether a traffic stop is permissible under the Fourth Amendment when it is based on an officer's misunderstanding of the law.
Of interest to local governments that operate jails, the issue in Holt v. Hobbs is whether a state prison grooming policy violates the Religious Land Use and Institutionalized Persons Act because it prohibits an inmate from growing a half-inch beard in accordance with his religious beliefs.
The Court has accepted three tax cases affecting local government this term.  Comptroller v. Wynne involves the constitutionality of a state failing to offer residents a tax credit for all income taxes paid to another jurisdiction.  Alabama Department of Revenue v. CSX Transportation involves whether a diesel fuel sales tax is discriminatory against railroads in violation of the Railroad Revitalization and Regulation Reform Act (4-R).  And in Direct Marketing Association v. Brohl the Court will decide whether a challenge to the constitutionality of Colorado's attempt to collect more tax revenue from online purchases can be heard in federal court.
No Supreme Court term would be complete without one Fair Labor Standard Act (FLSA) case.  Integrity Staffing Solutions v. Busk ask the straightforward question of whether the time employees spend in security screenings is compensable under the FLSA.
While the question presented in Perez v. Mortgage Bankers Association sounds academic, this case will have a practical impact on local government.  The issue is whether a federal agency must engage in notice-and-comment rulemaking pursuant to the Administrative Procedure Act before it can significantly alter an interpretive rule that interprets an agency regulation.
Image courtesy of Flickr from Kjetil Ree (creative-commons license, no changes made).