Last Monday's Supreme Court "long conference" did not disappoint.  The Supreme Court granted a total of 11 petitions.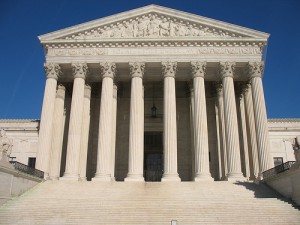 At least four of those cases are relevant to local government.
Housing discrimination.  For the third time the Court has accepted a case involving this issue of whether disparate-impact (as opposed to disparate treatment) claims can be brought under the Fair Housing Act (FHA).  It remains to be seen if Texas Department of Housing and Community Affairs v. The Inclusive Communities Project will settle like its predecessors, Mt. Holly v. Mt. Holly Citizens in Action and Magner v. Gallagher.  The 11 federal circuits that have decided this issue have all held that disparate-impact claims are actionable.  The Supreme Court is expected to rule to the contrary.  Local government have been sued for disparate impact under the FHA and have sued other entities.
Fourth Amendment search.  In its second Fourth Amendment case of the term, Rodriguez v. United States, the Court will decide whether a police officer violates the Fourth Amendment by extending (for just a few minutes) an already-completed traffic stop for a dog sniff.  The Eighth Circuit held the search in this case was reasonable.  The police officer waited seven or eight minutes after the traffic stop was completed before deploying his sniffer dog because he wanted backup given that there were two people in the stopped car.
Employment discrimination.  The issue in EEOC v. Abercrombie & Fitch Stores is whether an employer can violate Title VII for failing to hire someone because of a "religious observance and practice" that the employer knows about—but wasn't told about directly by the applicant.  The applicant in this case wore a hajib to her interview with Abercrombie & Fitch.  When Abercrombie didn't hire her because her hajib violated their "no caps" policy she sued.  The Tenth Circuit ruled in favor of Abercrombie because the applicant did not inform Abercrombie she needed a religious accommodation (though it was obvious).
Confrontation Clause.  In Ohio v. Clark the Supreme Court will decide whether testimony of head start teachers about what a three year old boy told them when they asked him who hurt him was admissible in his father's assault trial.  The Ohio Supreme Court held that admitting their testimony, when the boy did not testify due to his young age, violated the Confrontation Clause because the boy's statements were "testimonial."  The court reasoned that the teachers were acting as law enforcement agents when they questioned him because they have mandatory child abuse reporting obligations and the boy was not in the midst of an ongoing emergency when he was questioned.
For more information about these cases and other Supreme Court case relevant to states and local government previously accepted please attend the State and Local Legal Center's FREE Supreme Court Preview webinar on October 16.
Image courtesy of Flickr from Kjetil Ree (creative-commons license, no changes made).