The State and Local Legal Center's (SLLC) Supreme Court amicus brief in Los Angeles v. Patel, which IMLA joined, is all that you expect from an amicus brief…and more.  It makes not one but all the usual amicus arguments:  don't rule that state and local governments can be sued for yet another thing, if you rule against the city in this case many other cities and states will be affected, and a ruling against the city will likely impact many similar but unrelated statutes and ordinance.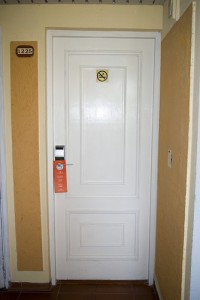 A Los Angeles ordinance requires hotel and motel operators to keep specific information about their guests and allows police to inspect the registries without warrants.  Motel operators claim this ordinance is facially invalid under the Fourth Amendment.  The Ninth Circuit agreed, because the ordinance fails to expressly provide for pre-compliance judicial review before police can inspect the registry.   
The State and Local Legal Center (SLLC) filed a Supreme Court amicus brief in Los Angeles v. Patel arguing that Fourth Amendment facial challenges should be disfavored and that if the ordinance in this case is unconstitutional similar hotel registry ordinances across the country—and laws and ordinances requiring record keeping and inspection of other businesses—may be unconstitutional. 
A facial challenge to the ordinance in this case requires a court to determine whether all searches that might be conducted pursuant to the ordinance are unconstitutional (as opposed to an as-applied challenge where the court would decide whether a particular search under the ordinance violates the Fourth Amendment). 
The SLLC argues that Fourth Amendment facial challenges don't make sense because whether a search violates the Fourth Amendment depends on whether it is reasonable, which is necessarily a fact-based determination.  Under some set of facts almost any search would be reasonable.  For example, depending on the facts, warrantless searches of hotel registries could be reasonable under the "community care-taking exception," because the registry is "in plain view," or because of "exigent circumstances."
The SLLC's brief notes that hotel registry ordinances are very common and all may be invalidated if the Court concludes Los Angeles's ordinance violates the Fourth Amendment.  Los Angeles cites two state laws (Maine, Massachusetts) and over 100 hotel registry ordinances from 28 states.  The SLLC's brief points out that at least 70 California cities have such ordinances as do cities in 15 additional states.  Finally, in many states mobile home parks, second-hand dealers like pawnshops and junkyards, scrap metal dealers, and massage parlors are subject to registration and inspection laws and ordinances.  These measures may be called into question if Los Angeles's hotel registry ordinance is struck down.
Tom McCarthy, William Consovoy, and Michael Connolly of Consovoy McCarthy and the George Mason University School of Law Supreme Court Clinic wrote the SLLC's brief which was joined by the National League of Cities, the National Association of Counties, the International City/County Management Association, the United States Conference of Mayors, and the International Municipal Lawyers Association. 
(Photo courtesy of Flickr by Christopher Lancaster, creative-commons license, no changes made).