In Walker v. Texas Division, Sons of Confederate Veterans the Texas Department of Motor Vehicles Board (Board) rejected the Texas Division of the Sons of Confederate Veterans' (Texas SCV) application for a specialty license plate featuring images of the Confederate Flag.  The Supreme Court will decide whether this violates the First Amendment.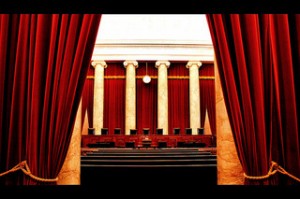 This case may have implications beyond the specialty license plate context.  Lower courts have struggled to determine whether government websites, advertisements on city buses, memorial bricks and tiles at public schools, etc. are government speech or private speech.
Texas allows nonprofits to propose license plate designs for state approval.  Texas SCV applied for a specialty plate featuring its logo, a Confederate flag framed on all four sides with the words "Sons of Confederate Veterans 1896," and a faint Confederate flag in the background.  The Board voted unanimously against the plate because it received numerous public comments objecting to it.
The Fifth Circuit ruled in favor of Texas SCV.  It held that specialty license plates are private speech, not government speech.  It also held that rejecting Texas SCV's plate was impermissible viewpoint discrimination and not a permissible content-based regulation.
The majority of the court concluded the speech in this case was private applying the "reasonable observer test" test from Pleasant Grove City, Utah v. Summum, 555 U.S. 467 (2009), where the Court held that monuments in a public park are government speech.  While governments have historically used monuments "to speak to the public" in parks, a reasonable observer would understand that specialty plates are private speech because "states have not traditionally used license plates to convey a particular message to the public."  A dissenting judge argued that Summum did not adopt a "reasonable observer test" for government speech and that for purposes of First Amendment analysis, monuments at public parks are very analogous to specialty license plates.
The entire court agreed that the Board engaged in impermissible viewpoint discrimination because it "discriminated against Texas SCV's view that the Confederate flag is a symbol of sacrifice, independence, and Southern heritage."  Even assuming Texas bans all viewpoints on the Confederate flag rejecting the plate wasn't a permissible a content-based regulation.  "Silencing both the view of Texas SCV and the view of those members of the public who find the flag offensive would similarly skew public debate and offend the First Amendment."
Interestingly, the Court did not grant review in Berger v. ACLU of North Carolina.  The issue in that case is whether North Carolina may offer a "Choose Life" specialty license plate without offering a pro-choice plate.
Image courtesy of Flickr by Phil Roeder (creative common license, no changes made).